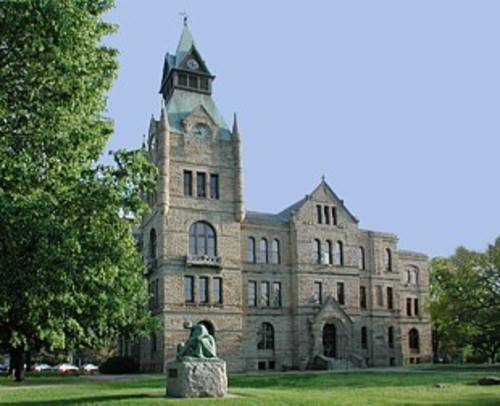 The Knox County
Courthouse
The Knox County Courthouse, 200 South Cherry Street, Galesburg was erected in 1884-1886, more than a decade after the removal of the County Seat from Knoxville in 1873.
The Knox County Courthouse is open Monday-Friday, 8:30 A.M. - 4:30 P.M., excluding Holidays.
Courthouse parking is on the south side of the building. Traffic through the parking lot is one-way. Patrons should use the entrance on Cherry Street and exit on the south side of the lot on to South Street. The entrance to the Courthouse is located on the Cherry Street side (east side) of the building. A Handicapped accessible entrance is located on the southwest corner of the building.
All persons entering the Knox County Courthouse are subject to screening by metal detection devices. All bags, packages, parcels, etc. are subject to X-Ray screening and search. Cell Phones, cameras and other audio/video recording devices are NOT allowed in the Courthouse without prior approval of the Knox County Sheriff. Food and beverages are not allowed in the Courthouse.
FIRST FLOOR
Knox County Clerk Scott Erickson's Office:
Voter Registration

Birth Certificates

Death Certificates

Marriage License

Hunting/Fishing License
Knox County Circuit Clerk Kelly Cheesman's Office:
Knox County Treasurer Robin Davis's Office:
Traffic Clerk's Office:
Payment of Traffic Citations

Payment of Court Fines & Fees
First Floor Court Room:
SECOND FLOOR
Knox County Sheriff's Department's Court Security Office
Knox County Public Defender David Hanson's Office
Judges Offices
Felony Clerk's Office:
Second Floor Court Rooms (Division One):
Felony Cases

Divorce

Landlord/Tenant

Foreclosures

Civil Lawsuits
THIRD FLOOR
Knox County States Attorney John Pepmeyer's Office
Knox County Public Defender Dan O'Brien's Office
Knox County Recorder of Deeds
Court Services Office:
Adult Probation

Juvenile Probation
Small Claims Clerk
Third Floor Court Rooms
Juvenile Court

Small Claims

Adoptions

Guardianship

Probate
No Photo Available
Chief of Court
Security Pat Welch