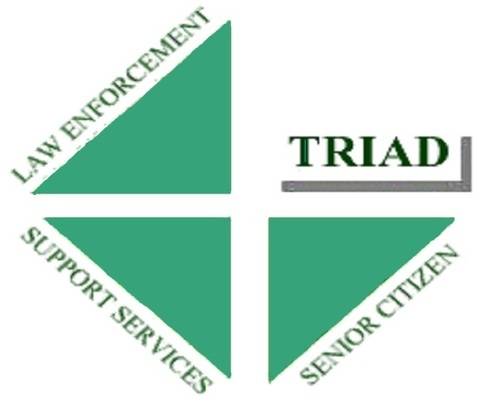 KNOX COUNTY TRIAD
Q: WHAT DOES TRIAD STAND FOR?
A: An east coast TRIAD stated it should stand for "The Right Information and Direction".
Q: WHAT IS S.A.L.T.?
A: Seniors and Lawmen Together. (Organization members) At this time there are approximately 50 S.A.L.T. members throughout the County who help TRIAD. Meetings are held in four different locations in the county, on the third week of each month.
Q: WHAT IS THE MINIMUM AGE TO BE INVOLVED WITH TRIAD?
A: For the programs, as a client - at least 60 years of age, S.A.L.T. members - any age.
Q: HOW DOES THE TRIAD PROGRAM DIVIDE UP THE COUNTY?
A: The S.A.L.T. committees are divided in four equal squares of Knox County, and are named Quads.
Q: IS TRIAD A PROGRAM FOR THE ENTIRE COUNTY?
A: The whole County of Knox is involved in this organization. There are several counties around Knox that also have TRIAD's in place.
Q: IS THERE A COST TO BE A MEMBER OF TRIAD?
A: All programs are free for people 60 or older that live in Knox County.
Q: HOW IS THE PROGRAM FUNDED?
A: Although TRIAD is part of the Knox County Sheriff's Department, it is not financially funded through any agency. We solely fund ourselves, through donations, fundraisers, and a yearly raffle. Small grants are also applied for and received..
Q: DOES TRIAD HAVE A BOARD OF DIRECTORS?
A: TRIAD has a nine-member board, including Sheriff David Clague, and TRIAD coordinator Deputy Jacque Arthur.
Q: HOW DO I MAKE A DONATION TO TRIAD?
A: Donations may be sent to Knox County TRIAD, 152 S. Kellogg Street, Galesburg IL 61401.
Q: HOW LONG HAS THE ORGANIZATION BEEN IN PLACE?
A: A TRIAD agreement between the Knox County Sheriff's Department, local law enforcement, and Senior Citizen leaders was signed in June of 1998.